Ats Tractor Price in Pakistan 2023 | Features and Specifications
When it comes to tractors in Pakistan, the Ats brand has firmly established itself as an emblem of superiority within the agricultural domain. Boasting a rich heritage that spans multiple decades, Ats Tractor has consistently provided farmers with avant-garde technology and revolutionary features. Their unwavering commitment to excellence and customer gratification has propelled them to the forefront as the preferred choice among farmers across Pakistan. Within this article, we will delve into the price, features, and specifications of Ats Tractor, offering a more comprehensive understanding of their offerings.
Overview of ATS Tractor Models
ATS Tractor is an esteemed brand of tractors that is widely used throughout Pakistan. These reliable machines were specifically designed to meet the demands of farmers and agricultural workers, offering reliable performance with their powerful engines and versatile features that enable various farming operations.
The price of an ATS Tractor in Pakistan depends on several factors such as models, dealers and location. ATS Tractors come in different models designed to meet specific farmer requirements and needs. Each offers customizable features to meet those specifications while giving farmers more freedom in meeting them.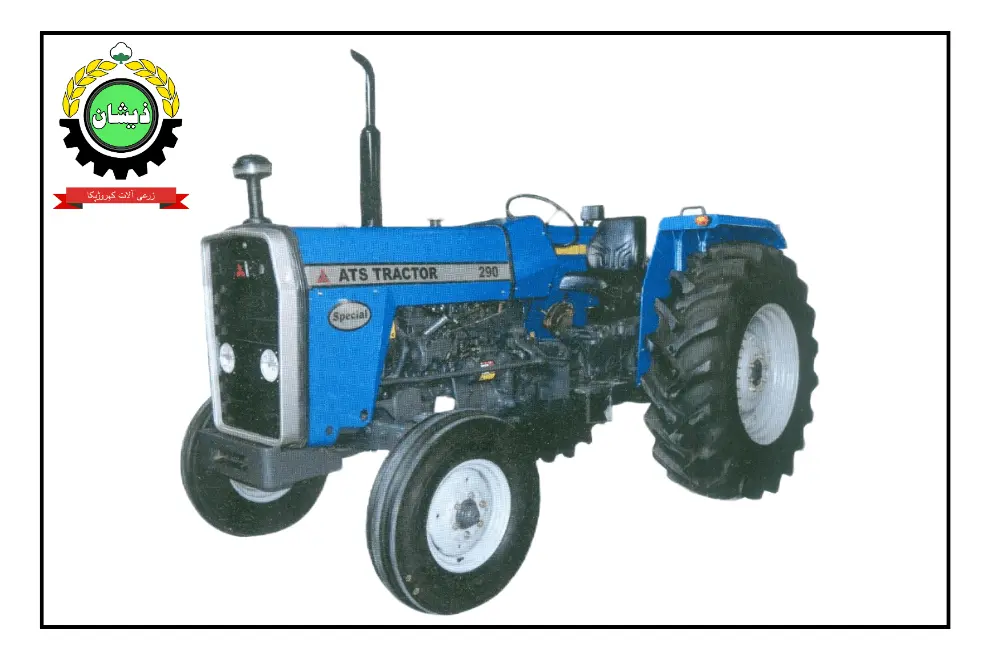 ATS Tractor Price in Pakistan Today 2023
The ATS Tractor Price in Pakistan depends on their model and features, ranging from 2,889,000 to 4,195,000 Pakistani Rupees for some models. When making your selection, be mindful of any desired specifications or features that fit within your budget and fulfill farming needs.
| ATS Tractor Models | Prices in PKR |
| --- | --- |
| ATS-290 Manual | Rs. 2,889,000 |
| ATS-290 Power Assist | Rs. 2,989,000 |
| ATS-290 Special (Hydro Static) | Rs. 3,148,000 |
| ATS-290 Special (4 x 4) | Rs. 4,195,000 |
Related Tractor Model Prices:
NH Dabung 85 HP Tractor Price in Pakistan
Al Ghazi Tractor Price in Pakistan (All Models List)
Different Models of ATS Tractors in Pakistan
ATS Tractors offer four distinct models, the ATS-290 Manual, Power Assist, Special (Hydro Static), and Special (4 x 4). Each of these tractors meets individual requirements and provides farmers with options when selecting one that suits their specific requirements best.
1- ATS-290 Manual
The ATS-290 Manual model features a powerful 82 HP engine for reliable performance across a variety of agricultural tasks, featuring 12-inch dual clutch technology and an efficient water cooling system for added efficiency. Capable of lifting loads up to 2150 kg with ease, this machine can help make workdays go by smoothly.
2- ATS-290 Power Assist
The ATS-290 Power Assist model was designed to offer improved steering control and maneuverability. Equipped with power-assisted steering, this vehicle makes navigating fields or tight spaces much simpler for farmers. Plus, with 82 HP of horsepower delivered from its engine, this machine provides efficient performance in harsh conditions.
3- ATS-290 Special (Hydro Static)
The ATS-290 Special (Hydro Static) provides the convenience of hydrostatic transmission for smooth gear changes. Equipped with an 82 HP engine and 67 HP power take-off (PTO) system, this tractor offers enough horsepower for various agricultural implements.
4- ATS-290 Special (4 x 4)
The ATS-290 Special (4 x 4) model was specifically created to offer increased traction and stability. Thanks to its four-wheel drive capability, this machine can effortlessly handle challenging terrain. Powered by an 82 HP engine and 67 HP PTO power, its 2150 kg lift capacity ensures efficient performance as well as the capacity to manage heavy loads with ease.
Features of an ATS Tractor
ATS Tractors feature numerous features and specifications designed to increase performance and reliability on the field.
Horsepower and Engine
Each ATS Tractor model comes equipped with an efficient 82 HP engine to efficiently complete various agricultural tasks. These engines use the reliable and durable 440 TN (A4.248), providing power that provides reliable farming operations.
Fuel Tank Capacity and Steering System
This Tractor model features an 87-liter fuel tank capacity to ensure farmers can work for extended periods without frequent refueling needs. Furthermore, select models offer power-assisted steering systems that improve maneuverability and ease of control to reduce fatigue during extended hours of operation.
PTO Power and Lift Capacity
ATS Tractors boast maximum power take-off (PTO) power of 67 HP at 2200 RPM, which allows farmers to efficiently use various implements like pumps, generators and harvesters. Furthermore, its 2150 kg maximum lift capacity facilitates handling heavy loads with ease.
Transmission and Speed Capability
This company features a reliable transmission system designed for smooth gear shifting and optimal performance, featuring 8 forward gears and 2 reverse gears to meet farmers' specific task needs. At speeds of 30km/H forward and 14.50 km/H reverse respectively, these tractors make efficient field operations possible.
Tyres and Battery
ATS Tractors feature high-quality sliding spur tires designed to offer excellent traction on various terrains for greater stability and control during field operations. Front tires measure 7.40-16 (6 PR), with 18-40/15-30 14RPs at the rear for excellent traction in rougher conditions. They're also fitted with 12-volt 110 Ah batteries for reliable starting power as well as electrical supply to various equipment.
Specifications of Ats Tractors
Here are the detailed specifications of the Ats Tractor:
| Specifications | Details |
| --- | --- |
| Horsepower | 82 HP @ 2250 RPM |
| Fuel Tank | 87 liters |
| Steering | Power Assist |
| Max PTO Power | 67 HP @ 2200 RPM |
| Wheelbase | 2310 mm |
| Engine Type | 440 TN (A4.248) |
| Number of Cylinders | 4-inline |
| Fuel Type | Diesel |
| Maximum Lift Capacity | 2150 KG |
| Clutch | Dual, 12 Inch |
| Cooling System | Water Cooled |
| Tyres | Sliding Spur |
| Gears | 8 Forward and 2 Reverse |
| Speed | Up to 30 KM/H Forward, 14.50 KM/H in Reverse |
| Battery | 12 V, 110 Ah |
| Front Tyre | 7.40-16 (6 PR) Pressed |
| Rear Tyre | 18.40/15-30 (14 RP) Pressed |
Related Tractor Model Prices:
Bull Power IMT Tractor Prices in Pakistan [All Models]
HMT 5911 Tractor Price in Pakistan
Conclusion: Ats Tractor Price in Pakistan
ATS Tractors provide reliable and cost-effective solutions for Pakistani farmers. Their wide range of models, powerful engines, versatile features and long lifespan allow these tractors to meet the demands of modern agriculture while their selection allows farmers to select one which fits best with their unique needs and budgets.
Frequently Asked Questions (FAQs)
Are Ats Tractors fuel-efficient?
Yes, ATS Tractors are specifically engineered to maximize fuel efficiency, enabling farmers to maximize productivity while minimizing expenses for fuel usage. Engineers have carefully engineered engines with increased torque at lower RPMs so as to make maximum use of available fuel resources.
Can Ats Tractors handle heavy loads?
Absolutely. Ats Tractors are equipped with robust engines and a maximum lift capacity of 2150 KG, enabling them to handle heavy loads and operate efficiently in demanding farming tasks.
What is the horsepower of the Ats Tractor?
Ats Tractors offer varying horsepower options, ranging from 82 to 87 HP, providing ample power for a wide range of agricultural operations.
What is the maximum speed of the Ats Tractor?
The Ats Tractors can achieve speeds of up to 30 KM/H in forward motion and 14.50 KM/H in reverse, allowing for efficient and timely completion of farming tasks.
Are Ats Tractors durable and reliable?
Yes, Ats Tractors are known for their durability and reliability. They are built with quality components and undergo rigorous testing to ensure optimal performance and longevity in the field.